Going to try to make a post while I have internet! Fingers crossed that I can finish before it goes out again!
Thank you all for your kindness on the loss of my Star. Your words help a lot.
My nephew's girlfriend, the sweetheart who helps me out when I have projects and sewing to do, has been going to my house during the day several times a week to pet and love on my lonely kitties and to help out taking care of litter and such. She took a picture that just floored me and I want to share it with you all.
I believe that's Leo on the left and Glitter on the right. Sharing the shelf! At the SAME TIME! As far as I know, this is a first! I've never seen more than one kitty sleeping or lounging up there at a time. I've seen kitties look to go up, see that it's already occupied and then leave.
As you can see, there's plenty of room for two kitties, so it's about time, isn't it, for sharing space! I can't wait to get home and see this for myself!
~~~~~~~~~~~~~~~~~~~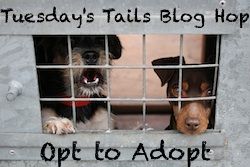 It's opt to adopt blog hop time again. This time I'm sharing a fairly new
Winnie's Wisher
who needs a special home.
Silver loves attention and people, all people. But he's not so good with other kitties. He could really use a home where he's an only kitty. Or perhaps one where there's an alpha kitty who will keep him in line? Mostly he wants a home where he can be pet and loved, do you know of a place like that?
You can learn more about Silver
HERE
.
If you know of a great home for him, please contact Chrystal at
Daily Dose
!
email at
c3k@lazernetwireless.net